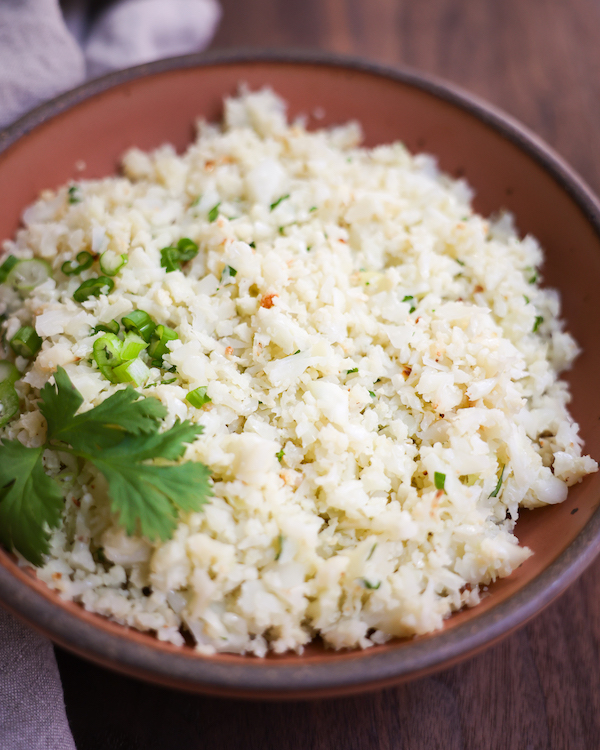 This Roasted Cauliflower Rice is ridiculously good. Roasting the cauliflower before "ricing" it brings out so much flavor. I wasn't a big fan of cauliflower rice until I made this! Where real rice is starchy and dry, roasted cauliflower rice stays moist, without being soggy. It's wonderful in tacos, burritos, with curry, in bowls, on salad, or anywhere else you'd use a grain.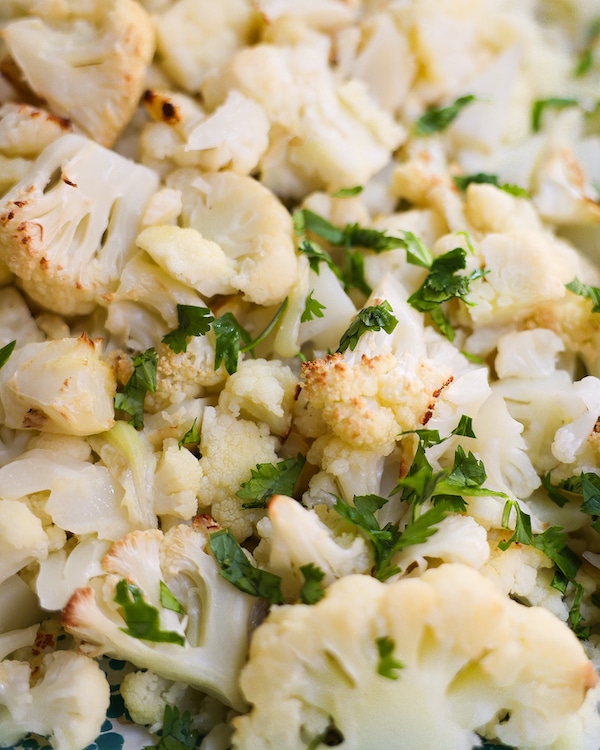 I love rice, and eat it multiple times per week. It's full of fiber, keeps me full, and is the perfect carb for any type of cuisine. But then there is cauliflower rice. Usually boring, bland, and soggy. I've tasted so many cauliflower rices that felt like a punishment. I get that people want to cut back on carbs, and replace rice with something more nutrient dense, but it doesn't have to be bland. Enter roasted cauliflower rice. 
Why Roasted Cauliflower Rice?
I got the idea for this recipe from the vegan lifestyle bowl at Chipotle which uses grilled cauliflower. Grilling or roasting cauliflower brings out the satisfying cruciferous flavor that we all love so much. The edges brown and crisp, and the florets get tender and slightly sweet. See the brown bits in the photos? That's the yummy stuff! Roasted cauliflower rice lets you have all of that goodness in each bite! I roast mine because it's easier than going outside to grill. However, either is absolutely delicious. I plan to grill a lot of cauliflower this summer!
Simple & Nutritious Ingredients
Cauliflower is a staple in my home, and I have a lot of delicious cauliflower recipes here on the blog (links below). I love how versatile it is––from fried chicken to tikka masala. Cauliflower, like other cruciferous vegetables, contains powerful glucosinolates which are sulfur containing compounds that have been studied for their role in cancer prevention. 
Fresh herbs are essential for the best tasting roasted cauliflower rice. I love adding cilantro, especially when I'm serving the "rice" with something like a burrito bowl. Fresh herbs, like cilantro, add more flavor to the cauliflower rice, and they're nutritious. For example, cilantro helps remove heavy metals from the body. It also contains a powerful anti-bacterial compound that can even kill salmonella.
Lime or lemon adds extra zest to this "rice". If you've ever made a meal and thought that something is missing, but you can't quite put your finger on it, a squeeze of citrus or a splash of vinegar is often the final touch you need. 
Spices are also a must for this cauliflower rice. I toss the raw cauliflower with garlic powder and salt before roasting. I also like to add my favorite spice, smoked paprika sometimes.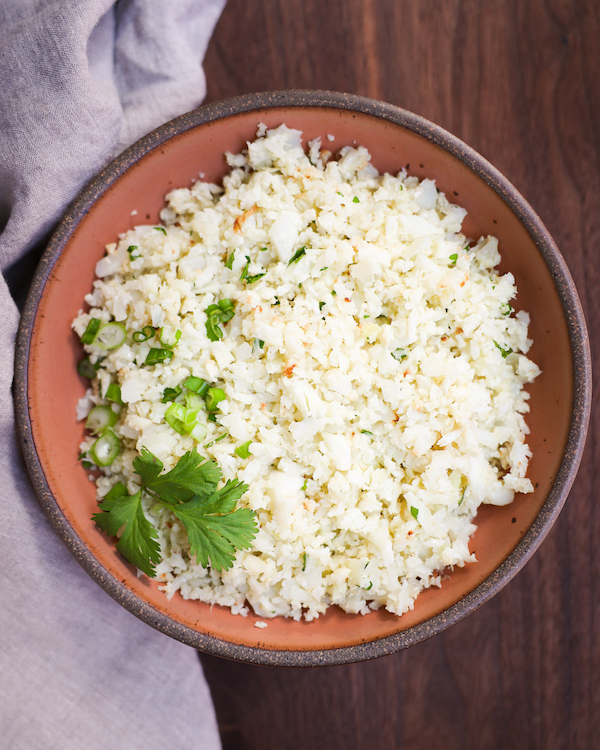 Tips for making this Roasted Cauliflower Rice
I recommend using a food processor to mince the cauliflower into "rice". It takes less than a minute. 

If you don't have a food processor, use a sharp knife to mince the cauliflower. This will take longer, of course, but the rice will still be delicious.

Any size or color cauliflower will work for this recipe. However, if you use a large cauliflower you may have to adjust the amount of cilantro, lime, and spices needed. 

Roasted cauliflower rice will stay fresh in the refrigerator for up to 5 days. 

Yes, you can freeze it!
Roasted Cauliflower Rice
This Roasted Cauliflower Rice is ridiculously good. Roasting the cauliflower before "ricing" it brings out so much flavor.
Ingredients
1

medium cauliflower

chopped, florets and stems

2

tbsp

extra virgin olive oil, or other oil

1

tsp

sea salt

1

tsp

garlic powder

1

tsp

smoked paprika

optional

1/4

cup

fresh cilantro, or other herbs

packed or unpacked, depends on how much you want

1

tbsp

fresh lime juice or lemon juice

freshly squeezed

2

green onions, green parts

chopped
Instructions
Toss the cauliflower with oil in a mixing bowl or on a baking sheet. Then toss it again with the salt and spices.

Spread cauliflower evenly onto a baking dish, and roast for 35 minutes, or until tender and edges are golden brown.

Transfer the cauliflower to a food processor and add the cilantro. Pulse a few times, until a rice like texture is achieved. I like mine to be a bit larger than real rice.

Season to taste with more salt and lime to taste.

Serve garnished with green onion.