I'm excited to announce the pre-order of my cookbook, SWEET POTATO SOUL. Purchase your copy today at Amazon, Barnes & Noble, Books-A-Million, Indie Bound, or iBooks.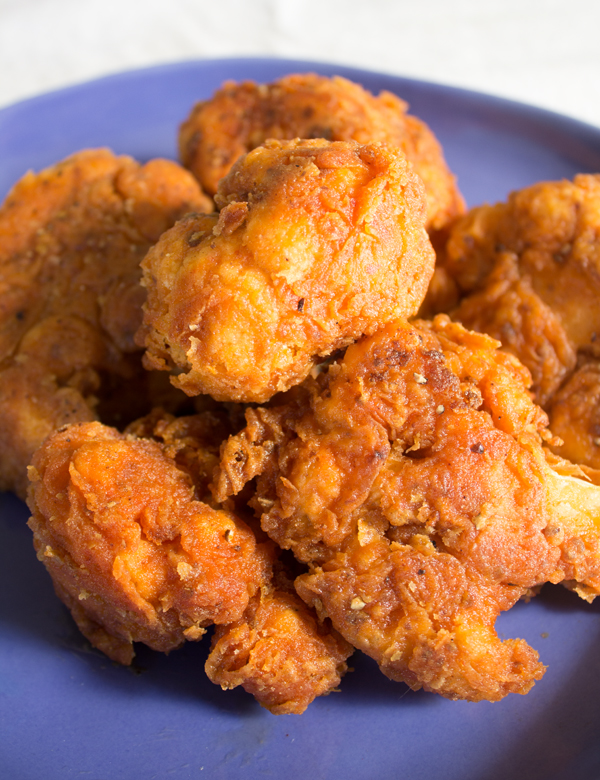 It's crispy, it's tender, it's full of flavor, and it's vegan! This spicy fried cauliflower "chicken" is just as delicious as the real thing. No chickens were harmed, and it's so much healthier. Cauliflower is a great replacement for chicken in this recipe because it's juicy, hearty, and tender. The double batter guarantees a perfect crunch!
Becoming vegan has opened my eyes up to the many ways of preparing Southern staples without using animals. In every case, the vegan recipe is as delicious and fulfilling as the non-vegan alternative. So much of what we like about a traditional recipe is the seasoning, and technique. As you'll see in this recipe, you can use classic fried chicken seasoning (which is accidentally vegan). The same technique of double battering and dredging cauliflower through seasoned flour is used. Just like my Nana does it!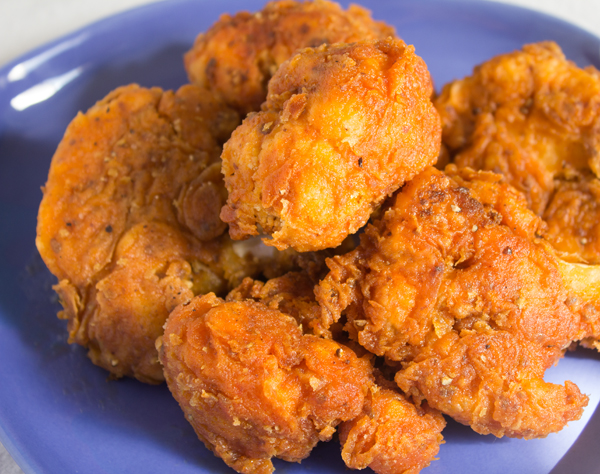 Over 9 million chickens are killed each year for food in the United States alone. And before they're slaughtered the vast majority of them live miserable lives stuffed in tiny cages without the ability to live according to their natural instincts and desires. Chickens are intelligent, communicative, and emotional beings [learn more here]. Though chickens raised for food have been bred to grow quickly and be "meaty" in the most unnatural of ways, they are still living creatures who possess consciousness, fear, and a variety of other emotions. It breaks my heart to consider that over 40 billion chickens are killed in the world for our greed each year.
I created this recipe and this Soul Food Sunday series to show that you do not need to take a life to enjoy a delicious meal 🙂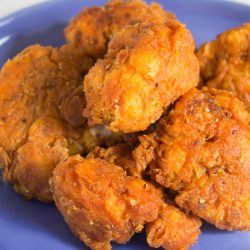 Spicy Fried Cauliflower "Chicken"
This spicy fried cauliflower recipe has been updated since I created the video. The flax "egg" has been replaced with arrowroot which is added to the dry ingredients. This creates a crispier batter when fried. However, if you do not have arrowroot (or cornstarch), feel free to use the flax "egg" like shown in the video.
Ingredients
1

cup

all purpose flour

1

tablespoon

arrowroot powder or cornstarch

½

teaspoon

salt

½

teaspoon

cayenne pepper

½

teaspoon

white pepper

½

teaspoon

onion powder

½

teaspoon

garlic powder

½

teaspoon

sweet or smoked paprika

¼

teaspoon

Old Bay seasoning

1

tablespoon

nutritional yeast

⅓

cup

hot sauce

1/4

cup

unsweetened plain soy milk or other non-dairy milk

1

tablespoon

Dijon mustard

5

cups

safflower oil

or other frying oil

1

large head of cauliflower

cut into large florets
Instructions
In a medium-sized mixing bowl combine the flour, arrowroot powder, salt, cayenne pepper, white pepper, onion powder, garlic powder, paprika, Old Bay, and nutritional yeast.

In another bowl combine the hot sauce, soy milk, and Dijon mustard and whisk until creamy.

Heat the frying oil in a large dutch oven or fryer. It should be around 350°.

Use one hand to carefully dip a cauliflower floret into the wet mixture, then drop it into the flour mixture. Use your other hand (it should be dry) to coat it completely. Dip it back into the hot sauce mixture, and again into the dry mixture, keeping one hand devoted to wet and one to dry.

Carefully lower the twice coated cauliflower into the hot oil. Repeat with remaining cauliflower until you can't fit any more into the pot. Cook for about 4-5 minutes, until the pieces are golden.

Transfer fried cauliflower to a large plate covered with two sheets of paper towel to absorb excess oil.

Continue to cook the remaining cauliflower.

Serve hot.