This post is sponsored by Calphalon to help celebrate the launch of their new expertly designed appliance line. For this post, I couldn't wait to get my hands on the new Calphalon IntelliCrisp™ Waffle Maker. I was excited to try this new one that promises crispier, fluffier waffles made using a ceramic surface. It surely didn't let me down. These Pumpkin Waffles with Pumpkin Spice Syrup have been my favorite things I've made so far—absolutely perfect for fall. Calphalon's new line of appliances includes the IntelliCrisp™ Waffle Maker, Even Sear Multi-Grill (hello grilled veggies and mushrooms!!), Digital Sauté Slow Cooker, Auto-Speed Blender, Quartz Heat Countertop Oven, and the Special Brew Coffee Maker.   
I try to play it cool when fall rolls around. I wait until October to even begin thinking about Halloween, I don't allow myself a single pumpkin spice treat until October, and you won't find me shopping for warmer clothing until the temperature really drops. I live in Los Angeles now, so fall really doesn't have the same charm as it does in other parts of the country. What used to be my favorite season has dropped to second place now that I'm in Southern California. Can you guess my new favorite season? Spring! And that's because it rains and LA becomes almost lush with greenery.
Still, fall takes the cake when it comes to the food and fresh local produce. I'm talking squash, sweet potatoes, hearty grains; cravings for soups, holiday foods, and baked goods. When the temperature first dropped in LA a couple of weeks ago I knew it was finally time to welcome in all those sumptuous flavors, starting with the most obvious: pumpkin spice! I had just gotten my hands on the new Calphalon IntelliCrisp™ Waffle Maker and was going crazy turning everything into a waffle. Of course I had to make pumpkin spice waffles, and of course I had to top them with pumpkin spice syrup, because who can ever get enough of pumpkin spice? Oh, and of course they're terrific made with sweet potato too!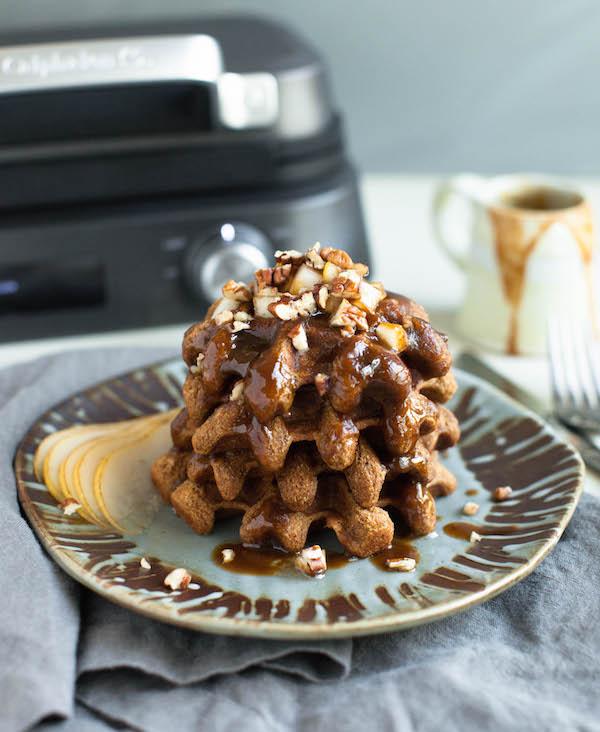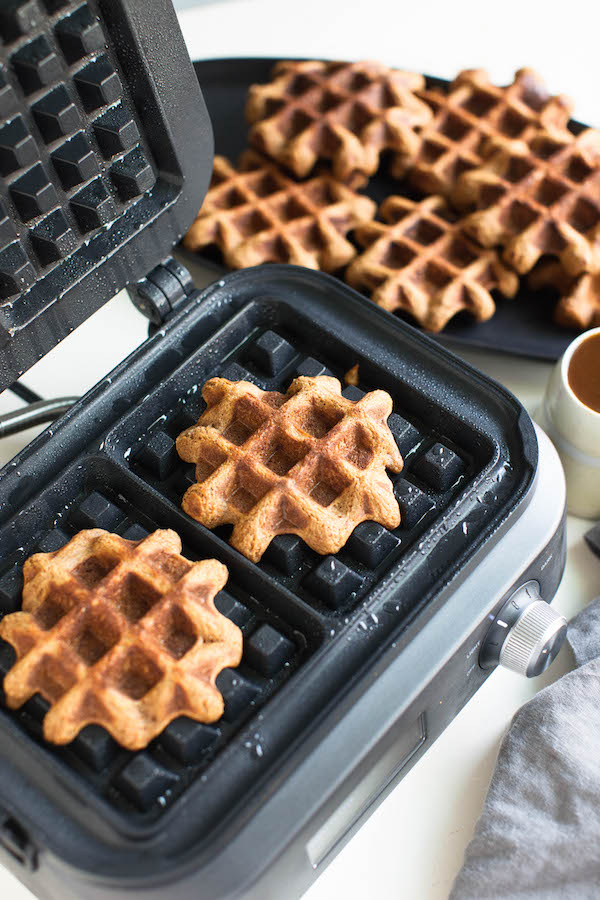 I've definitely fallen in love with my new waffle maker from Calphalon and its sleek, dark stainless steel finish looks beautiful in my kitchen. I've had a waffle iron for many years, but waffles would stick to it and fall apart if I didn't use copious amounts of oil spray. This waffle maker features a ceramic cooking surface that delivers 20% more even heat* for crisp, fluffy waffles and more. If I ran out of oil spray I'd have to pray to my lucky stars that the waffles wouldn't stick and thus ruin my breakfast plans. First world problems, I know. The Calphalon IntelliCrisp™ is so stress free though. There's no need to worry about your batter sticking, or to use nearly as much oil. Its ceramic surface is much more durable than standard non-stick, making it easier for waffles to pop out and onto your plate. You can set the waffle maker to your perfect waffle shade (or doneness), it has a countdown timer, and it makes a beep when they're ready to come out so there's no mystery about when they'll be ready. (That little beep could've saved me years of breakfast stress…) It's also so nice to be able to make Belgian style waffles! This waffle maker ensures that the waffles stay fluffy and light in the middle, but crispy on the outside, or as I like to call that, "heaven in my mouth."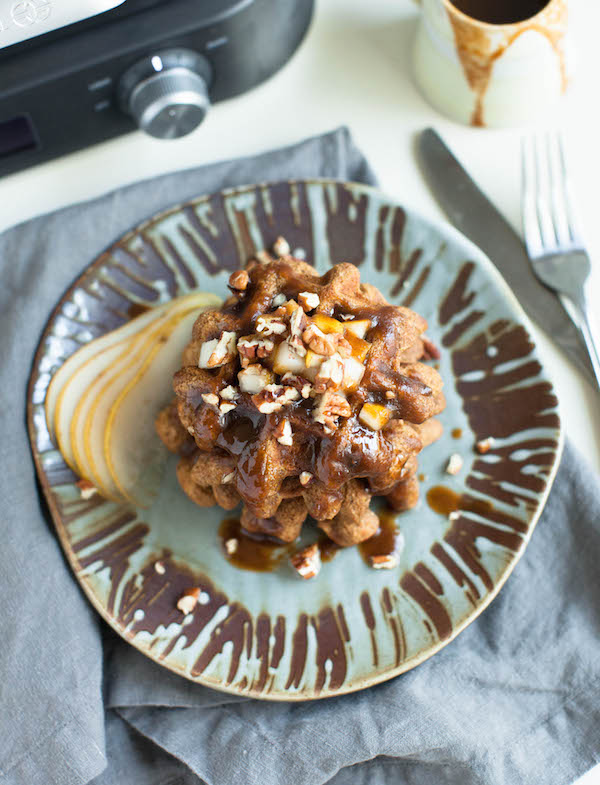 I was originally going to top these waffles with coconut whipped cream, but my coconut cream just wasn't whipping up very well. I took that as a sign to double up the pumpkin spice and top the waffles with a simple pumpkin spice syrup. Good call! The syrup can take the place of maple syrup, and you can use any leftovers to spice your coffee or tea throughout the week. It can be made while you're preparing your waffles, so expect to create an amazing pumpkin spiced breakfast in just 25 minutes!
Vegan Pumpkin Waffles
Ingredients
1

cup

whole wheat pastry flour

1/2

cup

almond flour

1/2

tbsp

arrowroot powder or cornstarch

1/4

cup

brown sugar or coconut sugar

½

teaspoon

salt

1

teaspoon

baking powder

½

teaspoon

baking soda

1

tsp

cinnamon

¼

tsp

freshly ground nutmeg

¼

tsp

cloves

¼

tsp

allspice

¼

tsp

ginger

1 1/2

cups

soy milk

or another non-dairy milk

1

tsp

apple cider or white vinegar

1

teaspoon

vanilla extract

¼

cup

+ 2 tbsp pumpkin puree

grapeseed oil or coconut oil non-stick spray

Toppings: pumpkin spice syrup

recipe below, toasted pecans, fresh sliced pear.
Instructions
Preheat your waffle maker to your desired waffle shade/doneness.

In a mixing bowl combine the whole wheat pastry flour, almond flour, arrowroot, sugar, salt, baking powder, baking soda, and spices. Whisk well to combine.

In another mixing bowl combine the soy milk, vinegar, vanilla, and pumpkin puree. Whisk well.

Pour the wet mixture into the dry, and whisk. Be careful to not overmix.

Grease the top and bottom of the waffle maker, then pour the batter into the center. I used about ¼-⅓ cup of batter per side because I wanted to create rounded waffles. If using the Calphalon IntelliCrisp™ Waffle Maker you can use up to ½ cup of batter per side.

Complete with the remaining batter.

Serve with pumpkin spice syrup (recipe below), chopped pecans, and fresh sliced pear.

Tip: Keep waffles warm and crispy while you make the rest by placing them in your oven or toaster oven at 200°. You can place them directly onto the oven rack or onto an oven-safe cooling rack.
Pumpkin Spice Syrup for Vegan Pumpkin Waffles
Recipe adapted from the
It Doesn't Taste Like Chicken blog
.
Note: Want a thicker syrup? The longer you simmer it the thicker it will become. Thicker syrup is great, but more difficult to strain. If you don't plan on straining it (which is totally perfect), then simmer for up to 10 minutes, or until your desired thickness is reached.
Tip: Save the pulp from straining the syrup to add to oatmeal or other breakfast porridge (like this freekeh porridge). Or you can use it the next time you make the pumpkin spice waffles! Simply add the pulp and adjust the amount of sugar and spice you add to the batter.
Ingredients
3/4

cup

water

3/4

cup

brown sugar or coconut sugar

1/4

cup

pumpkin puree

1

tsp

cinnamon

¼

tsp

freshly ground nutmeg

¼

tsp

cloves

¼

tsp

allspice

1/2

tsp

ginger
Instructions
Into to a saucepan add the water, sugar, pumpkin puree, and spices. Whisk well, and bring it to a simmer on medium-heat. Simmer for about 3-5 minutes.

Strain through a mesh strainer (see note above about creating a thicker syrup, and for tips on how to use the leftovers).
If you're as waffle obsessed as I am, try these amazing recipes as well. You'll notice that some of the links below are for pancakes, but the batter is waffle-friendly too!
Teff & Oat Pancakes (recipe under video)