For people going vegan, the hardest part of their journey is often pressure from family (whether real or perceived) to conform to tradition––especially when a holiday rolls around. All of those old buttery favorites evoke temptation, and explaining your new vegan lifestyle can start to feel like a burden. I experienced this when I first became vegan 12 years ago. Not touching the sweet potato pie was torture, and it made me question my resolve.
The hardest things to give up in life are our habits, especially with food, and especially if that food is connected to family and culture.
When you become vegan you need not sacrifice all of the delicious things that connect you to your people. Traditions are beautiful and important, and they can be altered without losing a single pinch of goodness and love. Replace animal products with compassionate plant-based alternatives in favorite dishes. Share them with your family and a fresher tradition can be born. Quiche, for example, was a dish my mother always loved and made when I was growing up. I simply replaced the eggs with tofu and the cheese with nutritional yeast. We can both enjoy it again!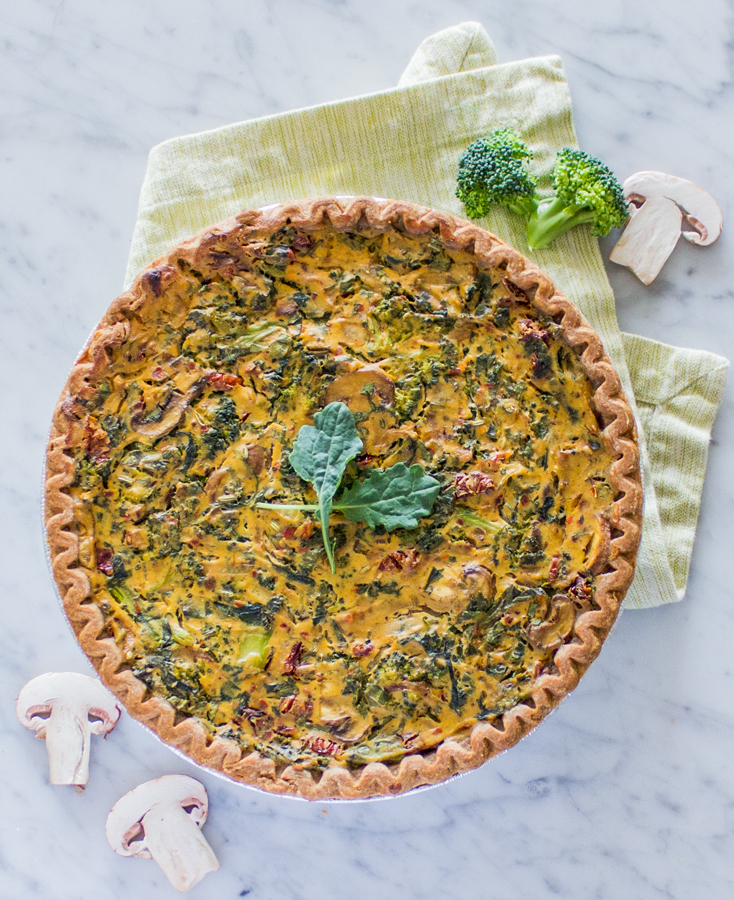 One could argue that Jesus  himself was a vegetarian, so in the spirit of compassion for all of God's creatures, let's enjoy a vegan Easter brunch this year. If you're sharing a meal with family, why not bring a delicious and recognizable dish that everyone will love? I think this vegan broccoli and kale tofu quiche would be a beautiful addition to your table.
Happy Easter!
Vegan Quiche
This delicious vegan quiche can be made all year round with any seasonal vegetables. This combination of fresh green veggies (broccoli, kale, and basil) are perfect for spring, and add plenty of nutrition to this comforting––yet healthy––quiche.
Ingredients
1

store-bought vegan crust

Or homemade crust

2

tbsp

extra virgin olive oil

or other oil

1/2

yellow onion

thinly sliced

2

cloves

garlic

minced

2

cups

broccoli

chopped

2

cups

kale

chopped & packed

1 1/2

cup

baby bella mushrooms, or other mushrooms

chopped

1/4

cup

sun-dried tomatoes

chopped (soaked ahead of time to soften if necessary)

1

tsp

Italian spice blend

1/2

tsp

fennel seeds

1/2

tsp

chili flakes

7

basil leaves

chopped or chiffonade

1

package

firm tofu

1

tsp

sea salt

+ more to taste

3

tbsp

nutritional yeast

1

tsp

apple cider vinegar

1/2

tsp

black pepper
Instructions
Preheat oven to 375° and ready your pie crust––if necessary.

Warm oil in a skillet on medium-high heat, and sauté the onions and garlic. Add about 1/2 tsp of sea salt, and cook until translucent.

Stir in the rest of the veggies, and sauté until tender, about 8 minutes (careful not to overcook and lose the color). Remove from the heat.

Stir in the Italian spice blend, fennel, chili flakes, and basil, and season to taste with sea salt.

While you are sautéing the veggies (or after), you can work on the tofu filling.

Place the tofu, nutritional yeast, vinegar or lemon, salt, and pepper into a food processor and blend until smooth.

Spoon the tofu mixture into the cooked veggies, and stir to combine.

Scoop the tofu and veggie mixture into the pie crust evenly. Bake for 40 minutes.

Allow it to cool for 10-15 minutes before eating.