I'm excited to share this guest post from Jessica Hylton of  the blog Jessica In The Kitchen. She makes amazing vegan recipes in her kitchen in Jamaica. This sweet potato breakfast hash is delicious, easy to make, and nutritious. And it's made with Japanese sweet potatoes, my current favorites! I'm back from maternity leave, so expect new recipes from me in the coming month. In the meantime follow me on Instagram @sweetpotatosoul to see what I'm eating and new-mom life updates
Hi everyone! My name is Jessica and I'm a vegan food blogger, photographer and videographer over at at Jessica in the Kitchen! I've been online friends with Jenné for about 2 years now and we finally met in person at her cookbook launch dinner last year while I was in California. Since then it's been even more fun keeping up with all the exciting updates in her life, including most recently – her adorable bouncing baby girl! I know Jenné is being kept super busy now thanks to her new beautiful blessing, so I wanted to share a guest post here on Sweet Potato Soul! Naturally my very first thought was to do something with sweet potatoes, but with a twist!
You see, I'm from Jamaica! Our local sweet potatoes are very different from those found in the US. We known them as sweet potatoes, but they are also known as Japanese Sweet Potatoes. They are like a light, white-yellowish colour on the inside and after being baked or sautéed are incredibly soft and creamy on the inside. They aren't as sweet as American sweet potatoes, and the sweetness varies by season, but they taste absolutely delicious! They are my favourite sweet potatoes in the world!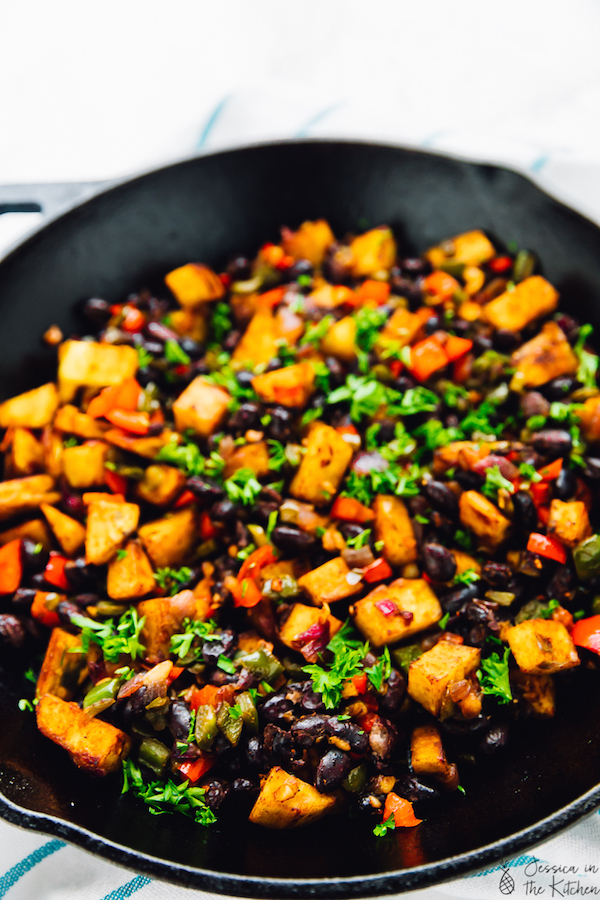 As such, I wanted to make a Sweet Potato Breakfast Hash to share with you all today. The sweet potatoes crisp up beautifully, especially since they are diced so small, and go perfectly with the other hash ingredients. Bell peppers, black peppers, onion, garlic, jalapeños and some seasonings really complement the sweet potatoes here. Plus I love the fact that everything is ready from start to finish under 45 minutes! Add some avocado on the side (we call avocado 'pear' in Jamaica) and maybe even a very ripe cooked plantain and you have yourself a beautiful Caribbean-esque version of Sweet Potato Breakfast Hash!
I hope you all enjoy this recipe and give it a try! 'Nuff love from Jamaica!
Sweet Potato Breakfast Hash
Ingredients
2

tablespoons

coconut or olive oil

½

60g green bell pepper, diced

½

60g red bell pepper, diced

1

27g jalapeño, sliced and diced

½

61g red onion, diced

4

cloves

garlic

minced

½

226g pound Japanese sweet potatoes, rinsed thoroughly and diced into 1" cubes

3/4

cup

195g cooked black beans (if canned, rinsed well)

2

teaspoons

paprika

3/4

teaspoon

sea salt

to taste

1/4

teaspoon

freshly ground black pepper
Instructions
In a pan over medium high heat, heat 1 tablespoon of oil.

Add in the green bell pepper, red bell pepper, jalapeño and the red onion. Sauté and cook down for about 8 minutes until the red onions are translucent. Scoop the mixture aside in a small bowl. Add the other tablespoon of oil into the pan and heat up.

Add in the sweet potatoes and stir to combine. Reduce heat to medium and let the sweet potato crisp and cook through, for about 10-12 minutes. Stir occasionally, ensuring not to burn the sweet potatoes.

After sweet potatoes are cooked through, and back in the previously cooked bell pepper mixture and the black beans. Add the paprika, sea salt and the black pepper over and stir to combine. Cook for about another 3 minutes to let the black beans heat through. Taste and adjust seasonings for taste, then remove from heat. Serve with slices of avocado and enjoy!