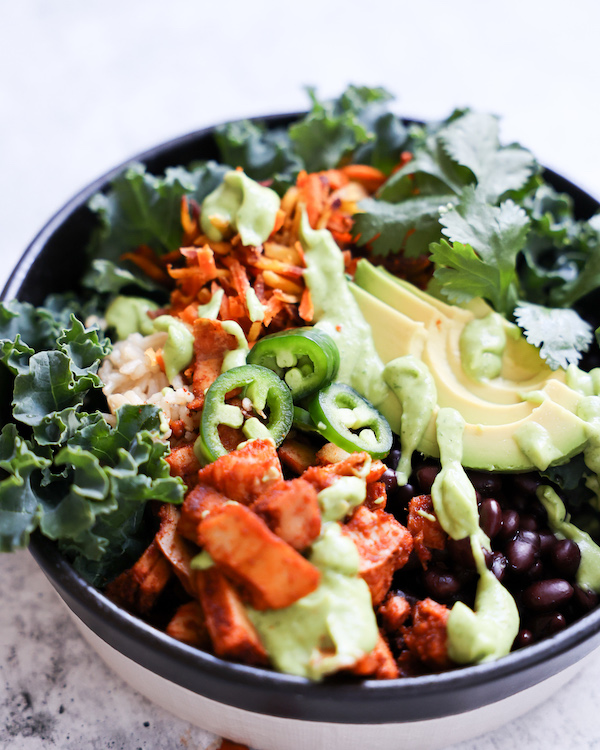 I really can't get enough of this delicious Winter Burrito Bowl! This vegan feast-in-a-bowl is made with tender black beans, fluffy rice, vegan "chik'n", and spiced roasted carrots. Top it with a creamy cilantro cream to complete the flavor experience. It's so easy to make, and perfect for meal prep. Get ready to fall in love with this nutritious and delicious bowl!

80/20 life, 80/20 bowl
I love that so many people decide to go vegan in January. It's a perfect time to kick off your vegan journey. While you're staying warm at home, why not improve your vegan chef skills. If I could give one piece of advice to someone going vegan, it would be to eat an 80/20 diet. At least 80% of your meals should be made with wholesome unprocessed ingredients––like the majority of ingredients in this bowl. Eat no more than 20% of processed and sugary vegan foods. There's space for processed meats, like the amazing vegan chik'n I used in this Winter Burrito Bowl, but it shouldn't make up the majority of your diet. Even better, balance it in a nutrient dense bowl like this one!
Shred & Roast Your Carrots
You've had roasted carrots, but have you had shredded roasted carrots? For this Winter Burrito Bowl I knew that chopped carrots wouldn't have the right texture. Enter shredded carrots. They have an amazing tender texture when roasted, and add body to this bowl. Toss the shredded carrots in olive oil and spices, then roast them until caramelized and tender. You'll want to add these to all of your bowls and salads. They play well with others, and could even be used as a replacement for grains in some recipes. 

Meaty Alternatives
If you don't have access to a vegan meat, or would rather use a whole food alternative try this bowl with meaty mushrooms. I recommend oyster mushrooms or other meaty mushrooms for the best texture and flavor. Mushrooms have tons of flavor on their own, so you don't need to marinate or heavily spice them. 
Hearty Vegan recipes to try this winter!
Winter Burrito Bowl
Warm and delicious burrito bowl made with vegan chik'n, roasted shredded carrots, beans, and an avocado cream. Perfect for meal prep or any day of the week!
Ingredients
1

package of Sweet Earth Chipotle Chik'n

3

cups

cooked black beans

3

cups

cooked brown rice

4

large kale leaves

1

jalapeno pepper

sliced

Cilantro for garnish
Roasted carrots:
4

medium carrots

shredded

2

tbsp

extra virgin olive oil

1/2

tsp

garlic powder

1/2

tsp

smoked paprika

1/2

tsp

sea salt
Avocado cream:
1/2

avocados

1

tbsp

fresh lime juice

1/4

cup

fresh cilantro

stems ok

1

clove

raw garlic

1/2

tsp

salt + more to taste

2-4

tbsp

water
Instructions
Heat oven to 350°.

Toss the shredded carrots with oil and the spices and spread evenly into a baking dish.

Roast for 30 minutes, or until tender and slightly golden.

Place the ingredients for the avocado cream in a blender. Blend until creamy. Add more water to thin the sauce if necessary.

Heat 1-2 tbsp of oil in a skillet on medium heat.

Once hot, add the Sweet Earth Chik'n and cook for 7 minutes, stirring occasionally.

Remove from heat and assemble your bowl.

To assemble the bowl. Add a kale leaf to the bottom of each bowl. Fill with rice, beans, Sweet Earth Chik'n, and roasted carrots. Top with the avocado cream, jalapeño pepper, and cilantro.