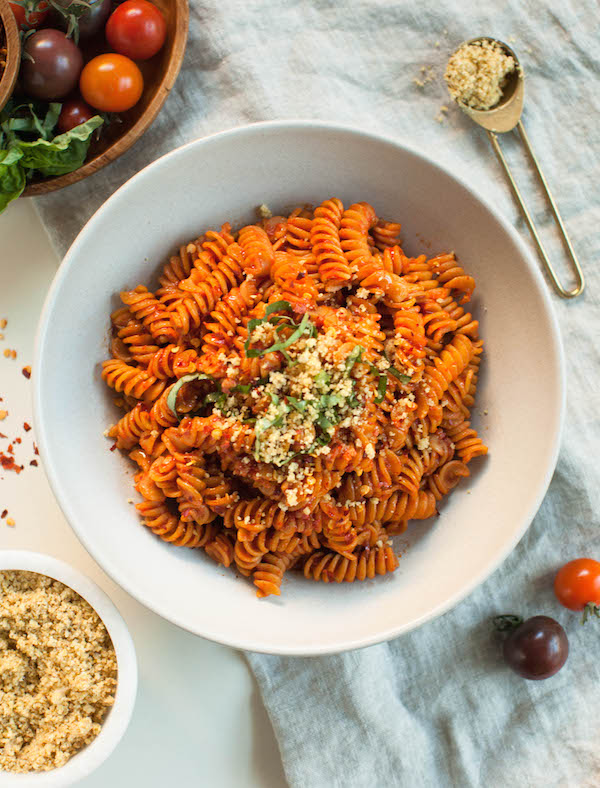 I don't know about you, but I love a good pasta recipe! Noodles and pasta both work great as an entree dish, a side dish, or even in a salad, and they're a food the whole family will love. These easy vegan pasta recipes are versatile and work across a variety of different cultures and cuisines, meaning you'll never run out of ideas if you have an extra box of pasta in your pantry.

What's the difference between pasta and noodles?
Regularly we use "pasta" and "noodles" interchangeably. Did you know there is a difference in the way pasta and noodles are made? According to the National Pasta Association, pasta is a dough made from durum wheat and water that is then formed into different shapes. Noodles are not made with one single grain; they can be made with rice, vegetables, wheat, tapioca–the list continues. Another key difference is that pasta doesn't require salt while noodles do. More information on the differences between pasta and noodles can be found here.
To make things even more complicated, different pasta shapes are meant to accompany specific sauces for specific dishes. But guess what: It's 2022 and you can use whatever noodle or pasta with whatever sauce you want. You don't have to follow any rules! And for the sake of simplicity, we won't get too specific with today's pasta or noodle recipes because we're inclusive here!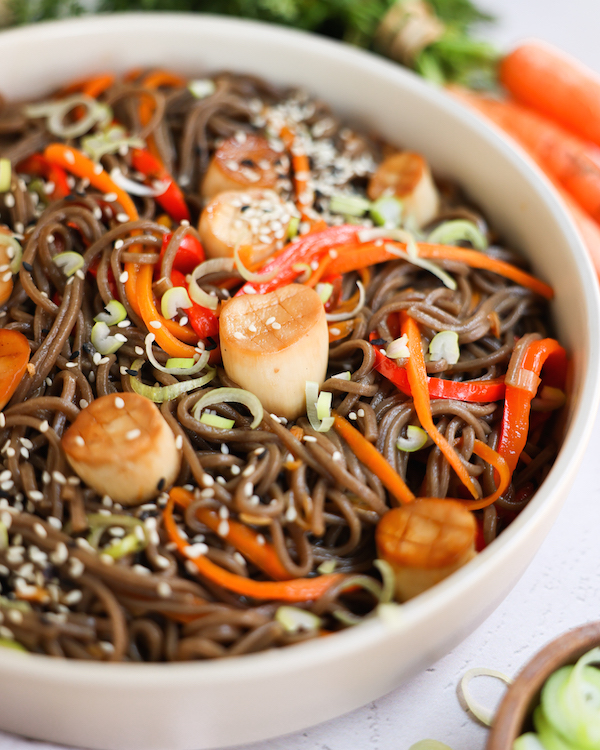 Cold Pasta and Noodle Recipes
Pasta dishes don't have to be eaten hot. In fact, there are plenty of delicious cold dishes that are great for sides or entrees!

Hot Pasta Recipes
I love sitting down with a hot bowl of freshly made pasta. As a kid, one of my favorite foods was rigatoni bolognese that my Nana used to make with ground turkey. I now use lentils to make it vegan when I'm craving it, which makes it even healthier! Pasta recipes are great for dinners because they are quick and easy to throw together as a last-minute meal. Baby J loves eating pasta and you can make it even more enjoyable for kids by getting fun shapes.

Side Pasta Recipes
While the only side dishes below are for macaroni and cheese, any of the cold salads are a perfect addition to your dinner plate. Side dishes aren't necessary to add to your plate, but they add extra nutrients and variety to your meals. Try pairing the Mediterranean Pasta Salad with my Sweet Potato Falafel Sandwich recipe. Spring Veggie Pasta and Black Bean Beet Burgers are another great combination!

Vegetable Noodle Recipes
Veggies make up the recipes below. These are perfect if you have a gluten allergy or are just looking to get more vegetables into your diet. Plus, the paired sauces are amazing. To make the sweet potato noodles you'll need a spiralizer or a julienne peeler. This spiralizer is handheld and easy to use.