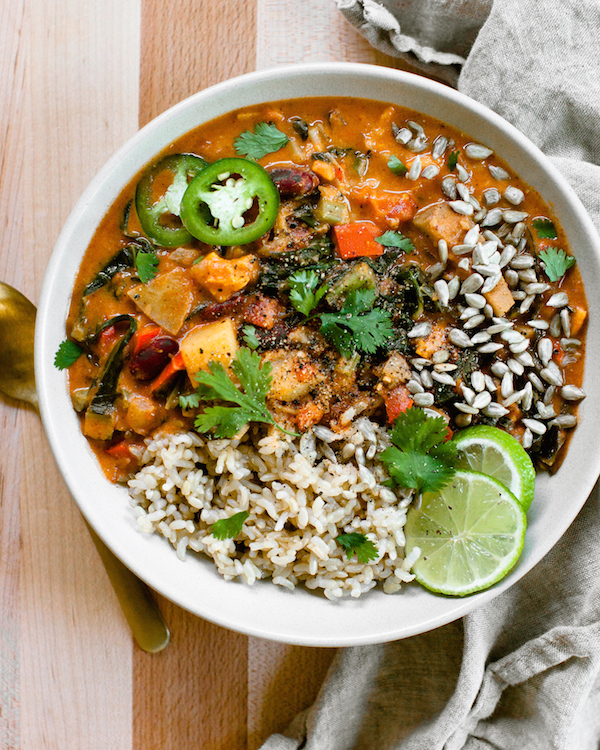 This West African Peanut Stew is healthy, easy-to-make, comforting, and down right DELICIOUS! I replace peanut butter with sunflower seed butter, so those with peanut allergies can finally enjoy this incredible vegan stew.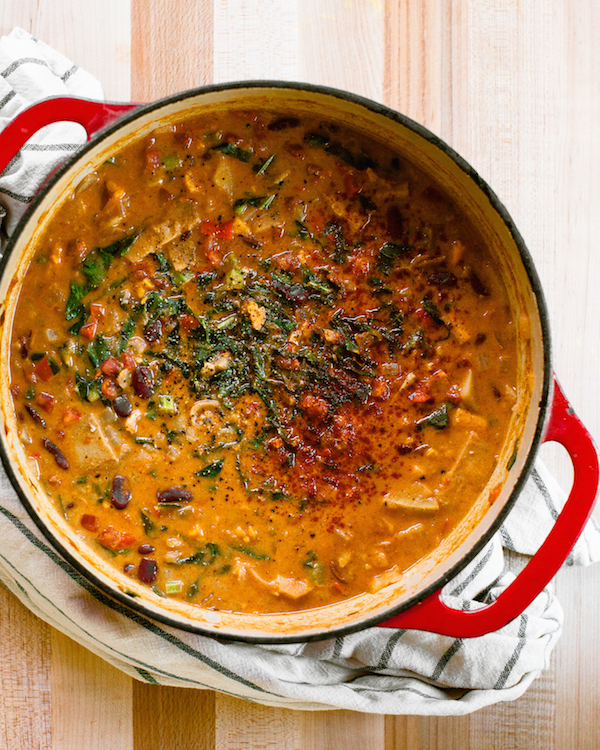 The greatest gift I received right after having my baby was the gift of healthy prepared food. My friend Brandi, who is a doula and mother of 3, brought us a pot of her amazing West African peanut stew. As many of you know, I'm kind of allergic to peanuts. Brandi has a peanut-free household, so she made this classic stew with sunflower seed butter, and let me tell you, it was incredible: full of flavor, slightly spicy, warm, creamy, and filling. Since that day Brandi's nut-free West African peanut stew has become a staple in our house.
Fresh & Nutritious Ingredients
This West African Peanut stew is made with some of my absolute favorite ingredients. I keep them all in my pantry so when I have a craving I can quickly make this hearty stew. 
Sunflower Butter: Sunflower seeds are overrated! Like peanuts they are cheap, high in protein, full of healthy fat, and readily available. Unlike peanuts, they are not an allergen. Sunflower butter even tastes like peanut butter, so it's a perfect nut substitute in this Peanut Stew. Buy sunflower seed butter, or make your own by blending toasted sunflower seeds in a food processor until creamy. 
Sweet Potatoes: Y'all already know sweet potatoes are my favorite food, and my favorite ingredient to add to any stew. This West African Peanut Stew is made with sweet potatoes and yukon potatoes. Each has a different flavor and texture, and makes this stew feel like comfort food.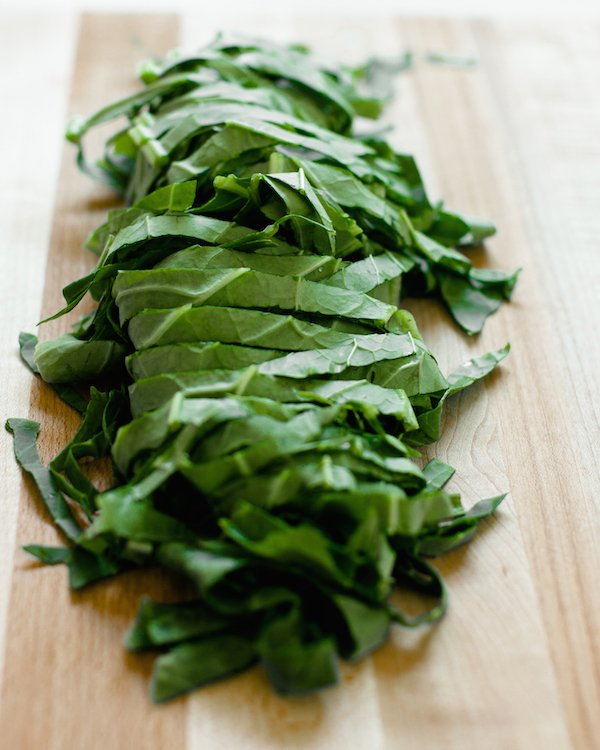 Collard Greens: Greens have long been a staple of African diets, and collards were one of the crops African enslaved people grew on their garden plots. Though native to Greece, collard greens made their way to west Africa by way of Morocco, and much later to the United States. They are incredibly nutritious, providing vitamins A, C, E, and K. They're also a terrific source of calcium, with even more than dairy milk.
Jackfruit: Make sure you only use unripe green jackfruit for this recipe. Jackfruit is a delightful tropical fruit, and the unripened fruit has a meaty texture. It parties well into almost any stew. Just be sure to avoid using jackfruit in syrup for this recipe. I buy mine in a can at Trader Joes. 
Harissa: Harissa is a North African spicy red pepper paste. You can buy harissa with different levels of spice, from mild to spicy. My favorite brand is Mina. If you do not have harissa, I recommend using Ethiopian Berbere spice, start with 2 teaspoons and build from there.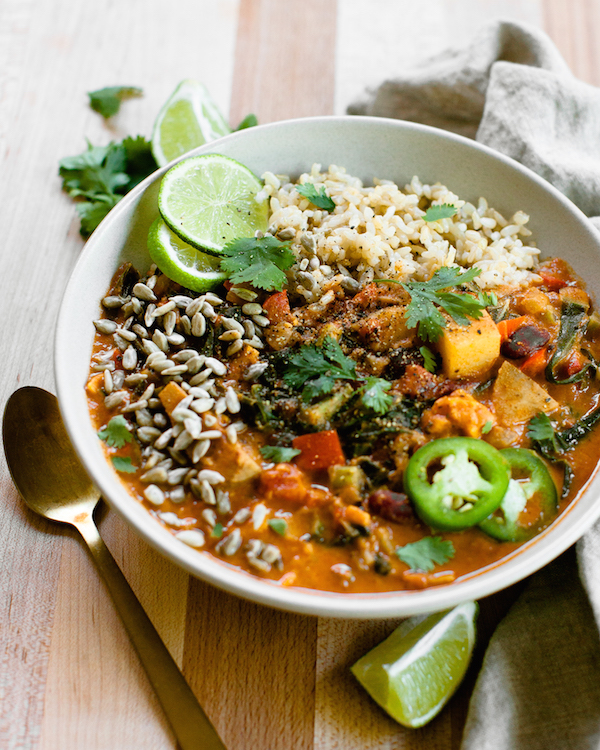 Where's the meat?
This recipe is 100% vegan, of course! This stew is often made with chicken, so I've replaced the meat with jackfruit which has a very similar texture. A fantastic meaty replacement for jackfruit is oyster mushrooms or maitake mushrooms. 
This vegan recipe isn't short on protein––hello collards and sunflower butter––and it gets a boost from kidney beans, which are mainly there to add even more delicious texture and flavor. 
Tips for making West African Peanut Stew
Sauté your aromatics

––onions, garlic, pepper–– until the onions are translucent and everything is tender and slightly caramelized. This assures maximum flavor for the base. Add a little salt to the vegetables as they cook. 

Measure your spices and combine them all in a bowl before you start cooking. They should all be toasted for 30 seconds after the aromatics are tender. Measure first to avoid burning. 
Use a fork to lightly shred your jackfruit pieces. Shredded jackfruit has a really nice texture. Though, if you prefer chunks, that is delicious too. 
The sunflower butter will separate when it's first added to the pot. Let the stew simmer, and give it a good stir. It will become creamy and consistent. 
Add the collard greens last to avoid overcooking. The greens should be bright and beautiful when serving the dish, though still tender.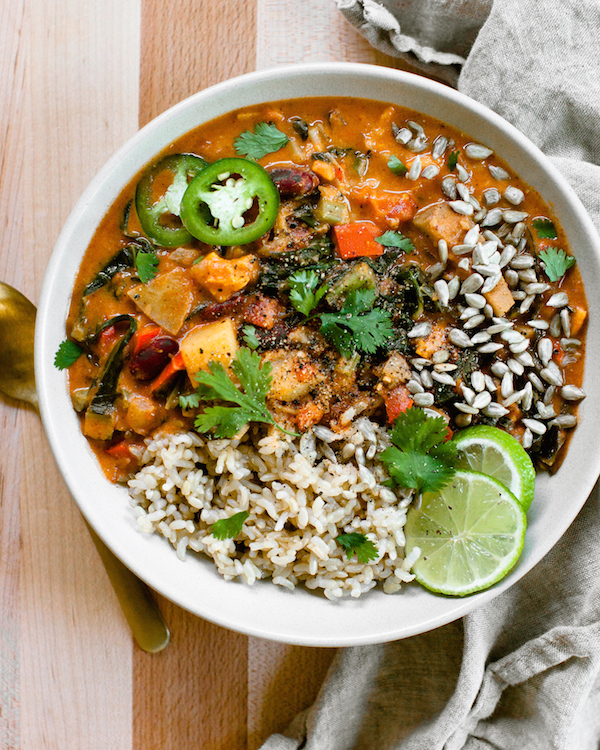 How to Serve & Store
Serve

this West African Peanut Stew over rice, and top with fresh cilantro and lime juice. I like to serve it with sliced jalapeño peppers for even more heat. 

Store

leftovers for up to a week in the refrigerator. If freezing, allow the stew to cool completely before transferring to a freezer safe container.
I'm grateful to my friend Brandi for introducing me to her take on West African peanut stew. I often pay it forward by making my pregnant friends a pot of this nourishing goodness when their babies arrive 💗 Hope you'll try it too!
More comforting recipes for new parents (or any human with an appetite)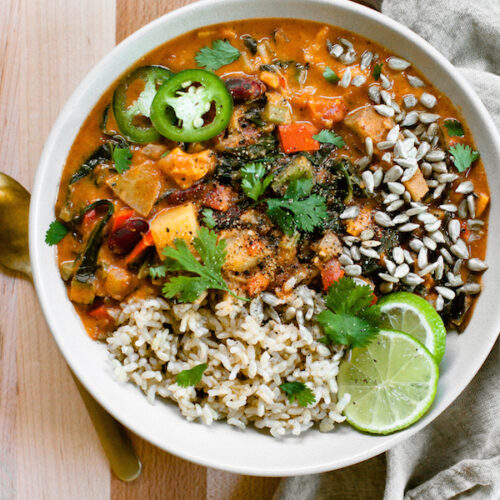 Nut-Free Vegan West African Peanut Stew
If you don't have sunflower seed butter on hand, but want to keep it nut-free, try using tahini. You can make your own sunflower seed butter by blending toasted sunflower seeds in a food processor until creamy--about 10 minutes. Or you can find sunflower seed butter at the store. I buy the canned jackfruit at Trader Joes.
Ingredients
2

tbsp

grapeseed oil

or other neutral cooking oil

1

medium red or yellow onion

diced

3

garlic

minced

2

inch

ginger

minced

1

red bell pepper

seeded & diced

1/2

jalapeño

seeded & diced

1

tbsp

ground cumin

1

tsp

whole coriander seed

1

medium sweet potato

cubed

1

yukon gold potato or red skin potato

cubed

1 14-

oz

can diced tomatoes or 3 ripe diced tomatoes

4-6

cups

water or vegetable broth

1

can unripe jackfruit

chunks halved

2

cups

cooked kidney beans

or 1 can

1 1/2

tbsp

vegetable bouillon paste

I use Better Than Bouillon brand. Skip if using veggie broth

2

tsp

smoked paprika

1

tbsp

harissa paste

*optional

1/2-1

c

sunflower seed butter

1

tsp

sea salt + more to taste

1

bunch collard greens

sliced into thin ribbons (removing the stem is optional since you're cutting them so thin)
For serving
black pepper

cilantro

fresh lime

cooked rice
Instructions
Warm oil in a large pot on medium-high heat.

Add the onions, garlic, ginger, bell pepper, and jalapeño, plus a pinch of salt and saute until onions are translucent.

Add the cumin and coriander, and stir. Cook for another 30 seconds or so.

Add the sweet potato, yukon potato, tomatoes, the water or broth, bouillon, jackfruit, and beans.

Bring to a simmer and add the bouillon paste.

Cook with the lid ajar for about 20 minutes, or until the potatoes are tender but not mushy.

Add the smoked paprika and harissa if using, and stir well.

Stir in the sunflower seed butter. Add up to 1 cup if you'd like it very thick.

Then add the salt.

Lastly, add the collard greens and cook another 5 minutes until they are bright green and tender.

Season to taste with more salt if necessary.

Serve with fresh black pepper, cilantro, and lime over rice.