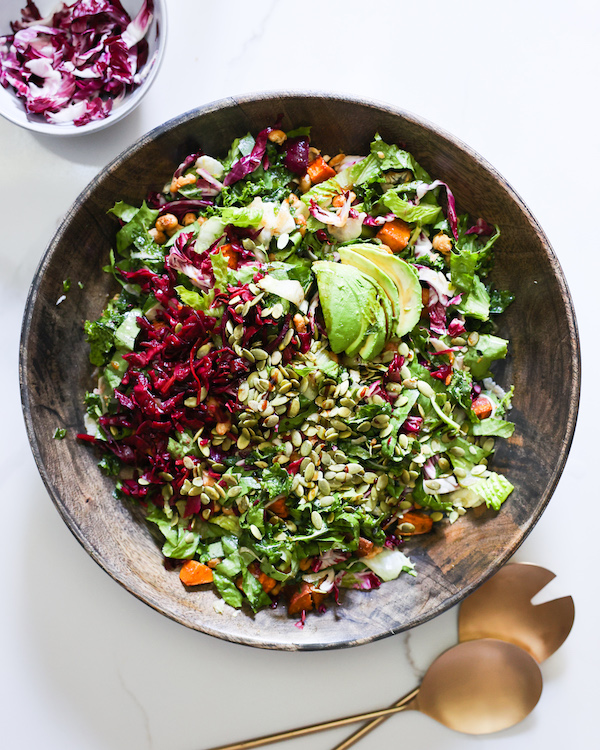 This beautiful Autumn Salad is the definition of a perfect salad! Loaded with incredible flavor, texture, protein, and nutrition; it will make you crave veggies every day of the week! This flavor packed salad is made with a base of massaged kale and topped with pomegranate vinaigrette, roasted sweet potatoes, and more seasonal ingredients. Each ingredient adds flavor, texture, and nutrition to balance this vegan entree salad. Once you make this recipe, you'll never settle for a boring salad again. It really is the best fall salad!
This Loaded Autumn Salad Is
Bursting with flavor
Full of crave-able texture
Made with everyday ingredients
Topped with a tangy sweet dressing
Colorful and pretty
Nutrient dense
Perfect as an entree
The Star Ingredients
Pomegranate Molasses
One of my favorite ingredients in the world is pomegranate molasses. This rich and tart condiment is made from pomegranate juice and sugar. The concentrated pomegranate flavor adds tang and sweetness to salads, dressings, sauces, dips, and desserts. Look for it at Middle Eastern markets, health food stores, and online.
Kale
I use kale as the base of almost all entree salads. This super hearty green is full of protein, fiber, vitamin K, calcium, beta-carotene, and vitamin C. Always be sure to massage kale in dressing before adding the other salad ingredients. Massaging kale will break down the tough cell wall of the leaf and make its nutrients more bioavailable. Massaging will also tenderize the raw kale and make it much more appetizing.
Radicchio
It's the bitterness for me! Add bitter radicchio to this salad to balance the sweetness from the dressing. Radicchio is an impressive source for antioxidants and vitamin K. It is also a good source of zinc, vitamin E, and folate (vitamin B9).
Radicchio gets bonus points for being so pretty!  If you aren't quite acclimated to it's bitter taste, use red cabbage in its place.
Crispy White Beans
Since learning how to crisp up beans, I seldom make a salad without them. These crispy white beans are seasoned with nutritional yeast, smoked paprika, garlic powder, olive oil, and salt. Crisp them in an air fryer for 10 minutes, or bake them until crispy. You can use any bean for this; even lentils will work! Adding beans to a salad adds extra protein and fiber, and helps make this an entree worthy meal.
Toasted pumpkin seeds or Pecans
Nuts or seeds are a must for any great salad! The crunchy texture and nutty flavor are too good to pass up. Make sure to toast your seeds or nuts before adding them to a salad. Nuts and seeds add wholesome fats, omega 3 fatty acids, and vitamin E to your salad. They are also a great source of protein, fiber, zinc, iron, and other vitamins and minerals.
Sweet Potatoes
It's not a loaded Autumn Salad without roasted sweet potatoes. Like the beans, sweet potatoes help make this salad filling. They are full of fiber, which will keep you full for longer. The caramelized sweet potato flavor, starchy texture, and warmth make this salad feel like fall. I usually roast an orange variety of sweet potato for this salad; they are more moist than white sweet potatoes. However, either will do.

How to make the best fall salad
Step one: Roast the sweet potatoes and cook the beets. I like the texture of steamed beets best, so I steam them in my Instant Pot for 20 minutes. Cube the sweet potatoes and toss with smoked paprika, garlic powder, salt, and olive oil. Spread cubes evenly on a baking sheet, and roast for 45 minutes at 350°. They'll be crispy along the edges, and extra sweet on the inside.
Step two: Make the pomegranate dressing in a jar. Add the pomegranate molasses, maple syrup, lemon juice, apple cider vinegar, cinnamon, cumin, dijon mustard, garlic, black pepper, and extra virgin olive oil to a jar with a lid, and shake until creamy. That's it!
Step three: Massage the kale in the pomegranate vinaigrette until it is tender––the leaves will reduce in size like cooking. Taste to be sure it's as soft as you like.
Step four: Add the shaved fennel and massage it into the kale for a few seconds. Then add the romaine lettuce, radicchio, sweet potatoes, beets, and crispy white beans. Add more dressing and toss well.
Step five: Top the salad with toasted pumpkin seeds (aka pepitas) and sliced avocado.
How to massage kale
How to Massage Kale
Add clean kale to a large bowl then add a few tablespoons of dressing. Using clean hands, gently knead the kale leaves like you would massage a person. You will notice that the dressing and your hand movements quickly begins to break down the kale making it darken and reduce in size, just like cooking. I usually massage kale for 1-2 minutes. Taste a piece to make sure it is tender.
Tips to make the best Autumn Salad
Prep all of your ingredients before starting to assemble the salad.
Massage the kale until the leaves have reduced in size and are easy to chew.
Use home cooked beets. Store-bought beets will work in a pinch, but lack the bold flavor and soft of fresh beets.
Toast pumpkin seeds or nuts before adding to salad. Toast in the oven at 300° for about 10 minutes, or until slightly golden and fragrant.
If you don't have a jar to make the dressing; add all of the ingredients (minus the olive oil) to a small bowl and whisk. Slowly pour the olive oil into the bowl as you continue to whisk and blend the ingredients.
Meal prep perfection
Prep all of the ingredients for this loaded Autumn Salad on your meal prep day. Wait to assemble them until you're ready to enjoy the salad. If you pack and take your lunch to work, consider portioning the pomegranate vinaigrette in a tiny container so you can add it to the salad right before you eat it.
Acceptable substitutions
Sweet potato ––> Roasted butternut squash is a good substitution for sweet potatoes. Season and roast as you would the sweet potatoes.
Radicchio ––> Red cabbage is a good sub. It doesn't have the bitter flavor like radicchio, but it will still add color and crunch to the salad.
Fennel––> Apple slices can be used instead of fennel. Yes, they will add more sweetness to the salad, but they also add the same color and a similar crunch. Apples are a typical ingredient in a chopped autumn salad. Use honeycrisp apples for a sweet crunchy option, or Granny Smith if you'd prefer a tart apple.

Try these other Fall Salad recipes
Autumn Salad with Pomegranate Vinaigrette
This beautiful Autumn Salad is the definition of a perfect salad! Loaded with incredible flavor, texture, protein, and nutrition; it will make you crave veggies every day of the week!
Ingredients
2

sweet potatoes

cubed

2

tbsp

olive oil

1

tsp

smoked paprika

1

tsp

garlic powder

1/2

tsp

sea salt

2-4

steamed beets

cubed

1

bunch raw kale

chopped (about 4 cups)

1/2

fennel bulb

shaved on a mandolin or thinly sliced (about 1 cup)

1/2

head romaine lettuce

chopped (about 2 cups)

1/2

head radicchio

chopped (about 1 cup)

2

cups

crispy white beans

recipe here

1/2-1

cup

sauerkraut

1/4

cup

toasted pumpkin seeds or toasted pecans

1

ripe avocado

sliced
Pomegranate vinaigrette
1

tbsp

pomegranate molasses

1

tbsp

maple syrup

2

tbsp

fresh lemon juice

1

tbsp

apple cider vinegar

1

tbsp

dijon mustard

1/2

tsp

cumin powder

1/2

tsp

freshly ground black pepper

1/4

tsp

cinnamon

¼

cup

extra virgin olive oil
Instructions
Preheat oven to 350° and line a baking sheet with parchment paper.

Toss sweet potatoes with 2 tbsp of olive oil. Then sprinkle on smoked paprika, garlic powder, and salt. Toss again.

Spread the potatoes evenly onto a the baking sheet. Bake for 45 minutes, or until tender and crispy on the edges.

While the potatoes cook steam the beets and make the pomegranate vinaigrette (recipe below).
To make the salad dressing:
Add all of the vinaigrette ingredients to a jar with a lid and shake thoroughly.

If you don't have a jar: place the ingredients (minus the oil) in a mixing bowl. Whisk the ingredients together, then slowly pour in the olive oil. Continue whisking as you pour until emulsified and creamy.
To assemble the salad:
Place the chopped kale in a large mixing bowl. Add 3 tablespoons of pomegranate vinaigrette. Use your hands to massage the kale leaves until they are tender and reduced in size.

Add the fennel and massage a little more.

Add the romaine lettuce, radicchio, roasted sweet potatoes, beets, crispy white beans, and sauerkraut. Pour more vinaigrette over the salad (about 3 tablespoons) and toss well.

Finish the salad with toasted pumpkin seeds, sliced avocado, and a drizzle of pomegranate molasses.