Impress and nourish your guests with these easy vegan Thanksgiving sides! From soups to sautees, you can't go wrong with these delicious and festive recipes. 
This post is dedicated to my friend Tonya who sent a text message asking for recommendations of a Thanksgiving side recipe that is "great for novice cooks". Of course I made a whole blog post and video to share my favorite recipes that fit the bill. 
These Vegan Thanksgiving sides are:
Delicious 

Easy to make

Perfect for beginner novice cooks

Made from wholesome ingredients

Can be made ahead of time for easy serving
Sweet Potato Bisque with Crispy White Beans [recipe]
Try this creamy vegan soup. This creamy bisque is blended with white beans to replace heavy cream and create a luscious texture. It is topped with crispy air fried beans to add flavor, texture, and gourmet appeal. Make the soup in advance of your dinner, however, air fry the beans right before serving. 

Vegan Mac & Cheese 
Vegan Mac & Cheese tops the list for ultimate vegan Thanksgiving sides. These two vegan Mac & Cheese recipes compete with the best! One is made with a butternut squash cheesy sauce, while the other is simpler and made with soy milk, nutritional yeast, and spices. Both are delicious and nut-free.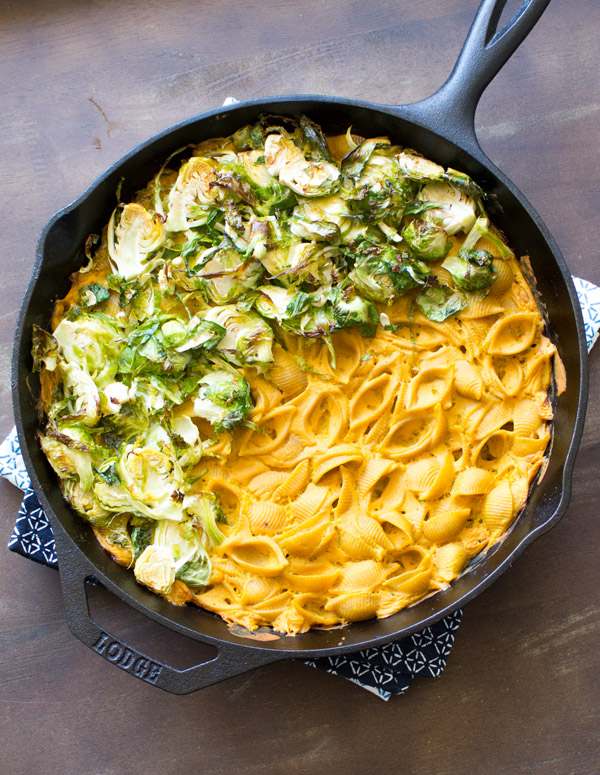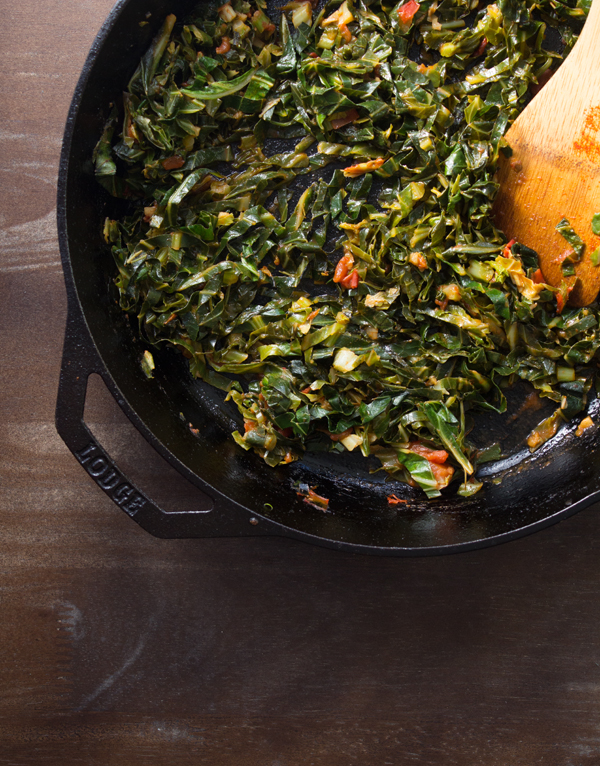 Smoky Collard Greens [recipe]
Is it even Thanksgiving if you aren't eating collard greens? At least in my household, it is not! These tender collard greens are seasoned with smoked paprika and soy sauce to add richness, savoriness, and the ultimate umami factor. Tomatoes add a touch of acid to set the whole thing off 🔥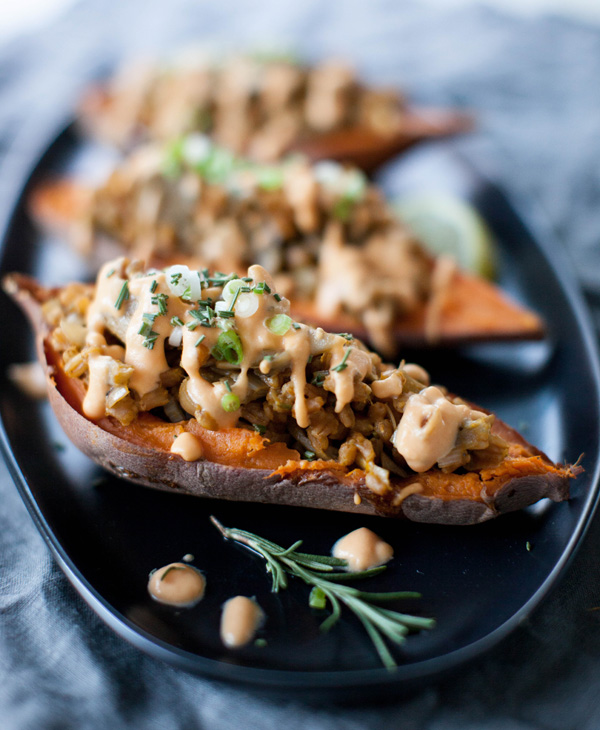 Wild Mushroom & Leek Stuffed Sweet Potatoes [recipe]

These stuffed sweet potatoes are filled with a tender farro risotto, wild mushrooms, and leeks. Topped with a creamy sweet potato sauce, your guests will love this unique side dish. Stuffed sweet potatoes can also serve as a main dish because they're so filling and beautiful. Also check out my Wild Rice Stuffed Sweet Potatoes which are topped with red pepper aioli and herb roasted pecans!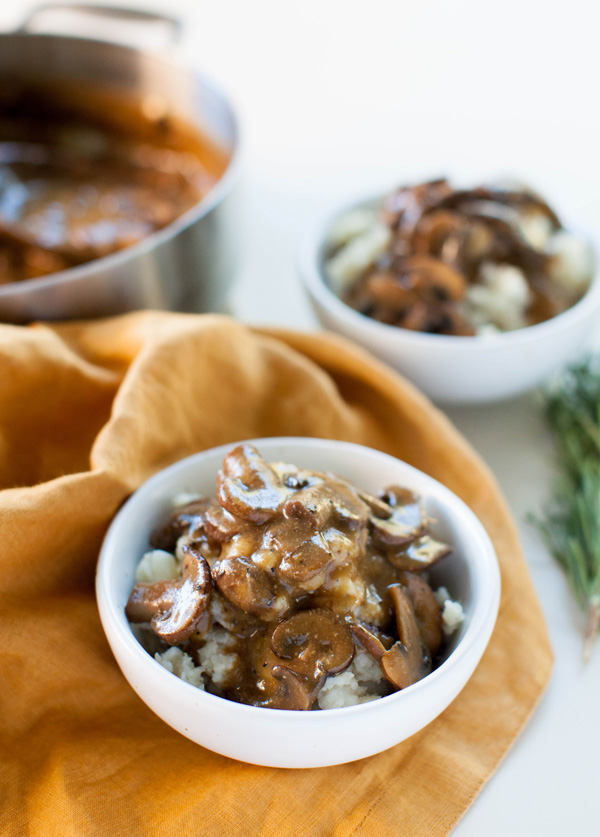 Mushroom Gravy & Mashed Potatoes [recipe]
Comfort food never tasted better! Silky mashed potatoes smothered in savory mushroom gravy! Need I say more? The mushroom gravy has a secret ingredient: porcini mushroom powder. This magical ingredient adds loads of umami––a flavor often missing in vegan cooking––to mushroom gravy. Your guests will beg you for the recipe. 
Hearts of Palm Vegan Crab Cakes [recipe]
Crab cakes aren't commonly in a Thanksgiving spread, but they should be. These vegan crab cakes are made with hearts of palm, chickpeas, and Old Bay seasoning. Air fry or pan fry them for a unique holiday treat. 
Toasted Coconut Butternut Squash Soup [recipe]
If you want a little tropical flare on your Thanksgiving table, look no further than this Butternut Squash Coconut Soup! Butternut squash, onions, apple, and coconut milk are blended to make a silky bisque. Top the soup with pomegranate molasses and pomegranate arils, for the ultimate festive treat.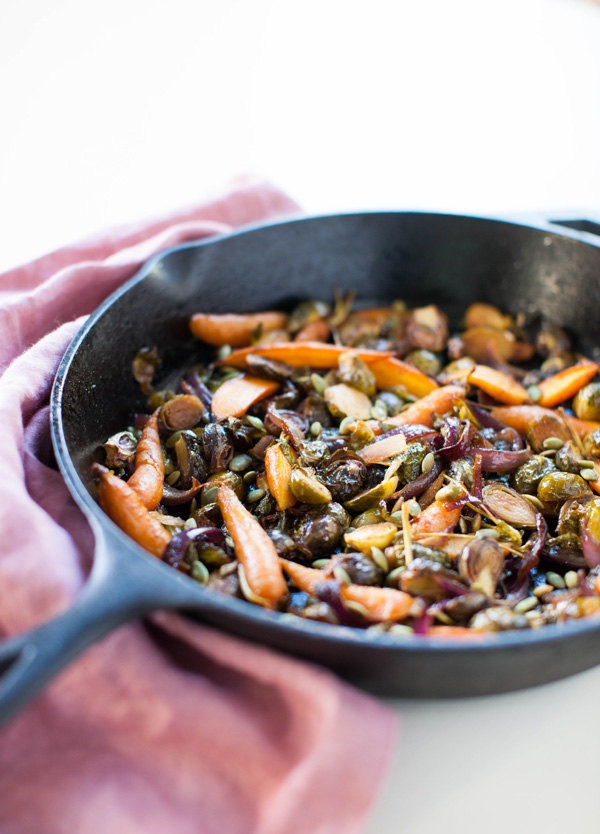 Smoky Maple Brussels Sprouts & Carrots [recipe]
I love this simple yet delicious Thanksgiving vegetable side dish. The Brussels and carrots are roasted in a smoky sauce, and caramelized to perfection. This side dish is super easy to make, and will round out your Thanksgiving spread. 
Here are some recipes for vegan Thanksgiving main dishes!